Answers
Mar 18, 2019 - 08:58 AM
Page 8 of the manual tells a bit about the ventilation and the safety distances. Clearance for air circulation is located beneath the fi replace provided by 4 feet on the underside. Ensure this gap is free from obstruction. The ventilation needs to pull cool air in through the bottom to push the heated air out of the top. I have included a picture of this along with a link to the manual.
https://www.rvupgradestore.com/v/vspf...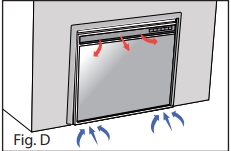 ---
Oct 01, 2020 - 03:13 PM
i accidentally put something to close to my fire causing it to overheat ,it now shows a 88 error
.i opened it up to check to see if there was anything obvious ,i noticed between the wires there is a heat sensor switch i guess it trips if the fire over heats as my fire did ,but now it will not rest ,if i bridge it with a peace of wire the fire works fine fan turns heat comes out ,but with out the wire when i turn it on it jumps to the 88 fault code the fire is cold as the fan and heater haven been working ,so what is this part and what is its function has it been damaged when it over heated if i cross it with a meter there is no continuity when cold you would think it switch would be complete and only switch to open in the avent of it over heating killing the power to the fan and heater elements ?????
---
Oct 02, 2020 - 11:01 AM
Furrion does not offer the internal components for this separately as serviceable parts unfortunately. If you unplug or remove power from it for an hour and it does not reset, the unit will need to be replaced.