Answers
Jun 05, 2017 - 06:23 AM
Hello -
When you are ready to place your order, please call us at: 866.332.7881 for shipping to Canada options.
The
Peterson V102
Red and Amber light dimensions are;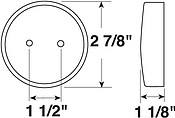 Surface-mount light functions as combination clearance and side marker.
Durable base and acrylic lens provides high quality at economical price.
Grounds through mounting screw with single lead wire for electrical connection.
Available in amber or red.