Answers
Apr 28, 2017 - 06:46 AM
According to Camco, they are both the same filter.
---
Jul 17, 2019 - 04:39 AM
The Camco 40621 and 40624 filters are NOT THE SAME. What is the difference between the 40624 and the 40621? VOCs (Volatile Organic Compounds). The 40624 removes these where the 40621 does not. Examples of VOCs are benzene, ethylene glycol, formaldehyde, methylene chloride, tetrachloroethylene, toluene, xylene, and 1,3-butadiene.
See the attached table for information put out by Camco. You will find the 40621 in the third column and the 40624 in the forth column.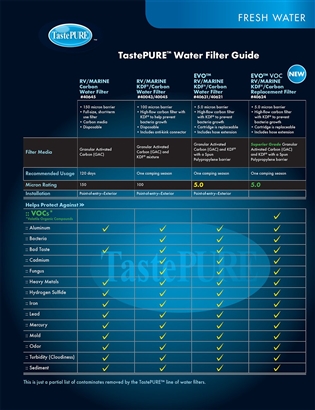 ---
Jul 17, 2019 - 08:41 AM
This question was answered almost two years ago. It is possible at that time, there were no differences in the filters or we could have possibly received incorrect information from someone at Camco. The information you provided is great. Thank you so much for updating us with this information.